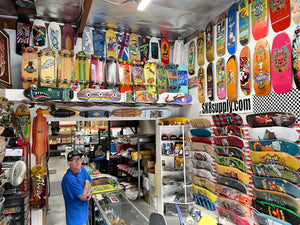 What's our Story?
Sk8supply was started in 2001 When David Anderson (skateboardcollector.com) and Debbie Gordon (of G&S Skateboards) decided to start a business around their skateboard collecting hobby. Between the 2 of them, they have years of firsthand experience with the 60's, 70's, 80's and 90's Skate Scene.

It started in a little hole in the wall off Garnet in Pacific Beach, CA and now is the retail front for the G&S skateboard factory on Santa Fe Street less than 5 miles away from where they started. Still going strong, still collecting and loving every reissue and custom old school complete that comes in and out of their shop.

If you are in San Diego, come by to check out the museum of boards and old school reissues in stock.